Staff
Our dedicated staff members are here to provide support, compassion, and information to help you through your journey of grief and the celebration of your loved one's life.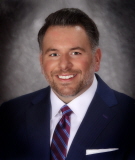 Adam J. Guthrie, FD
Owner - Supervisor
Click here to send an email.

Adam J. Guthrie is a native of Emlenton, PA and a 2002 graduate of AC-Valley High School, and a 2006 graduate of Thiel College and the Pittsburgh Institute of Mortuary Science. Adam is a Licensed Funeral Director and a Certified Preplanning Consultant. Adam represents the fourth generation of funeral directors at Huff - Guthrie Funeral Home & Cremation Services Inc. to serve our community. Adam is a member of the Franklin Area Chamber of Commerce where he serves on the Board of Directors and on the Applefest Core Committee. He also served as past President of the Franklin - Grove City YMCA Corporate Board of Directors and is a board member and Past President of the Western Pennsylvania Funeral Director's Association. Adam is a member of St. Patrick Parish in Franklin. Adam is married to the former Traci Reed and they reside in Franklin with their two daughters, Mia & Emma.